Robert J. Miller, DDS | Delray Beach
Dentist

Implant Dentist, Clinic Owner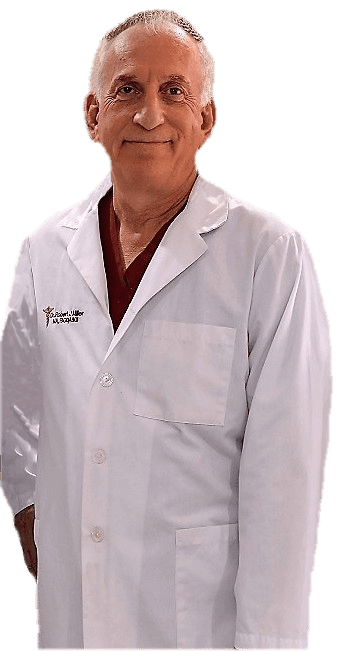 Have any questions? Call us now!
Tel:561-499-5665
Monday to Thursday 8:00 am – 5:00 pm
Friday By Appointment 

Make an appointment
Make an appointment

About
Dr. Robert J. Miller Offers Patients The Many Benefits Of Being A Board Certified Dentist
Why do dental patients from throughout the United States and Europe travel to Delray Beach to see Robert J. Miller, MA, DDS, DABOI, DICOI, FACD, at the Center for Advanced Aesthetic & Implant Dentistry? Why do many dentists ask Dr. Miller to perform their own treatment and refer challenging cases to him?
It's because Dr. Miller is a board certified clinician as well as a researcher and renowned lecturer. A pioneer in laser/surgical dentistry, he is known for his ability to handle very complicated cases, even for patients who have been told there is no hope, and to save failing implants (implant revision) with or without surgery.
"We have the experience and very advanced technology to diagnose multiple issues and help you achieve your goals," says Dr. Miller, who has been treating patients in Delray Beach for 37 years. "While we can correct multiple problems related to prior surgery, it is always much better to get the right treatment the first time."
A longtime proponent of dental and medical technology, Dr. Miller assisted in the design and development of the Biolase Waterlase Laser. In his practice, he uses five different lasers, a fully digital imaging system and a high-powered microscope. He also provides platelet therapy using the patient's own cells to accelerate the healing process.
Focus
Implantology
Degrees
Residency: Flushing Medical Center
Dental School: New York University, College of Dentistry
Diplomate, American Board of Oral Implantology
Honored Fellow, American Academy of Implant Dentistry
Fellow, Academy of Osseointegration
Chairman, Department of Oral Implantology, Atlantic Coast Dental Research Clinic (ACDRC), Palm Beach State College
Areas of Expertise
Surgical
Restorative
Cosmetic
Hygiene Prophylasis
Periodontal Maintenance
Implants
Board Certified Specialist in Implant Surgery & Reconstruction
Pioneer in Laser Dentistry & Surgery Specialist in Revision of Failing Implants
A diplomate of the American Board of Oral Implantology and a fellow of the Academy of Osseointegration, Dr. Miller has been the chairman of the Department of Implant Dentistry at Palm Beach State College, teaching up to 30 dentists each season about why and when to use implant products, three-dimensional scanning, bone grafting, platelet therapy, reconstruction (prosthodontics) as well as other topics and surgical training.
"We are in one convenient location near Delray Hospital and easily accessible from the Turnpike and I-95," he says. "My team is accustomed to working with many schedules and patients from afar and is happy to assist with any travel arrangements to reach your oral health goals."
Very Satisfied
I have been going to Dr. Miller since I moved to Florida 16 years ago. Excellent care.
Self-verified patient of Dr. Robert Miller – Posted on February 28th, 2019
Very Best Periodontist You Can Trust
Dr. Miller and his staff are phenomenal! Dr. Miller is an excellent periodontist and has provided outstanding care for my entire family. Everyone in his office is incredibly warm, friendly and helpful through every step of the dental implant process.
Self-verified patient of Dr. Robert Miller- Posted on June 10, 2018
Friendly and Informative
Nice Staff, Great Office
Self-verified patient of Dr. Robert Miller – Posted on March 7, 2018
Trust your care to us.

We have the experience & technology to ensure the correct procedures &
are Planned and Created for you…
Have any questions? Call us now!
Tel:561-499-5665